EDUCATION opportunities
MorrisonDance brings dance classes TO YOU!!!


We believe in sharing the joy and experience of dance far and wide. As such, our educational opportunities are offered through outreach programs to other institutions and/or organizations. Our company members teach at the college level, as well as youth classes through private studios, community centers, libraries and schools throughout Northeast Ohio.
NEED A CHOREOGRAPHER?
Please e-mail us with your show needs!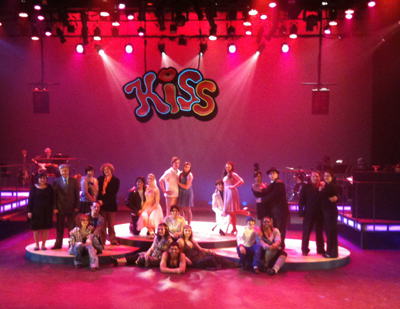 MorrisonDance has choreographers who bring professional creation experience into schools and community theater. As a team, Sarah Morrison and Carli Taylor Miluk bring in a range of styles and years of experience to make your show even more unique than the typical high school musical!
Here are some of the organizations we have choreographed for over the last 20 years:
ArtWorks of Young Audiencss of Northeast Ohio, Beck Center for the Arts, Brecksville Theatre on the Square, Cleveland Institute of Music, Cleveland Public Theatre, Cuyahoga Community College, Cuyahoga Heights High School, Saint Mary's Elementary School, Olmsted Falls High School, Olmsted Performing Arts, Westminster Schools (Atlanta, GA).
Photos: Top Left features dance students from ArtWorks 2008, Bottom left was taken during rehearsals for KISS, written and directed by Michael Laurenty. Right column featured MorrisonDance at the Tremont Arts and Cultural festival (photo by Cheyenne McCarty, 2011)

YOUTH CLASSES AND PROGRAMS
For a general or master class in contemporary dance, jazz, or ballet, please e-mail Carli Taylor Miluk.
To book a specialized youth program, please check out our listings through Young Audiences of Northeast Ohio!
Click here for a full listing of our programs offered through Young Audiences of Northeast Ohio
Click on the following links for descriptions of specific programs:
Fit Fun Frolic (early childhood)
Dance Medley (after school program)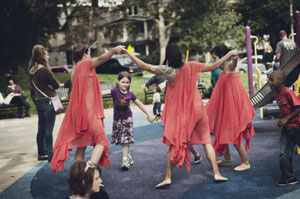 Photo by Cheyenne McCarty, 2011
PROFESSIONAL DEVELOPMENT OPPORTUNITIES FOR GENERAL EDUCATION TEACHERS
MorrisonDance also teaches general education teachers how to incorporate simple dance games into their classrooms!
Do you ever feel like your students ALWAYS have to go to the bathroom? It's because it's only socially acceptable way for them to stretch their legs!!! Learn how to incorporate brief movement games into your daily structure, so your students will be more on task when their brain is needed!
Seventh Inning Stretch: Creative Ways to get your Classroom Moving (professional development)
How about getting those kids moving while they are learning scientific concepts?
Dancing with Newton: Understanding Physics Through Dance (Professional Development)
MorrisonDance is a dance company that pushes the boundaries of dance by exploring unusual presentation and rehearsal venues, cross-disciplinary approaches to creation and education, and new creative marriages with other artistic media, science, nature, and technology.  Through this exploration, MorrisonDance has been able to share the power of dance as a language for communication and expression in a wide array of settings, while continuing to cultivate the value of more traditional dance presentations in conventional spaces. 
back to MorrisonDancc